Whether you're sinking your toes into warm sand or discovering an ancient ruin, travel invigorates your mind, body and heart. We've made lists of our favorite locations for kissing, dining and lodging around the world, with a special focus on Northern California. We hope you'll use them as a beginning point for creating wonderful memories. Now start packing!
Capri Island is one of the most evocative places in the world. Situated a short distance from the southern coast of Italy, Capri is built on an enormous rock that seems to rise from the middle of a deep blue sea. Houses are built into the sides of the rock, surrounded by twining vines and fruit trees, and graced with explosions of fragrant, colorful flowers. The sea is visible at every turn, shimmering with history and charm. Come to Capri Island, and slip into a Mediterranean dream…
Read More...
TRAVEL TIPS
Pack a couple of scented travel candles in your suitcase. Makes a hotel room an intimate space in seconds.

We like the ones from L'Occitane in Verbena or Honey.
Take advantage of that huge hotel bathtub with a bubble bath for two. Pack a bottle of something decadent (we like Milk Chocolate by Fresh Milk).

You can find them on Sephora and sink in… Bliss!
Hot Spots
The luxe vegetarian restaurant, Millennium is now located in the Savoy Hotel in San Francisco's theatre district. Every Sunday closest to the full moon, it offers a five-course Aphrodisiac Dinner, complete with Chinese herbal love potions.

For a little extra, you can get a room at the Savoy for afterwards. Yummy! 580 Geary Street Tel. 415.345.3900
The Deseo Hotel on the Playa del Carmen in Mexico is the perfect place for a relaxing getaway. Fear not: there's nary a token shot glass or a flowered polyester sheet set to be seen! Located just south of Cancun, the hotel is a sleek retreat, complete with lots of white, drapey curtains that wave in the breeze and a poolside scene that becomes a twinkling dance floor after the sun sets.

Hot tip: rooms 7 & 15 have open-air bathtubs and expansive views of the blue, blue ocean beyond… Phone: 00 52 984 879 3620
Let us send you love notes!
Our monthly newsletter is packed with recipes, wine recommendations, hints for cooking at home and more. Don't miss it!

Enter Email:


Trouble in the Kitchen?
Ask Andrea!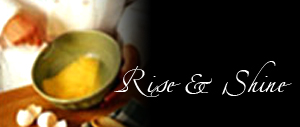 Our Valued Sposors
Find hotel rooms discounted up to 65% off or locate rooms for sold out dates in over 8000 cities worldwide.




Check rates from more than 60 different rental companies at nearly every major airport.

Enter a search city

Search for international and domestic flights with discounts direct from our consolidators!

Departure City