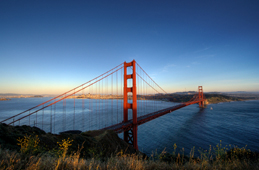 The Golden Gate Bridge
Predictable?
Maybe.
But we never get tired of this striking, soaring sculpture, rising above the water like a vision in red.
The Golden Gate Bridge is the ultimate symbol of freedom and joy and the power of a dream...it's true. Just wait until you see it. Park down by Chrissy Field and hike up on to the bridge; brave the wind and walk across; peer over the edge. Take in the view: the windsurfers, the sailboats, the iconic downtown skyline. Breathtaking.
Golden Gate Park
Golden Gate Park is so enormous – over 1,000 acres, with over a million trees and nine lakes – that you can't discover it all at once. You'll have to make several trips and leisurely enjoy each separate part of it. You might start with the Japanese Tea Gardens, where stunning architecture is accented with imported plants, bronzes, goldfish and stunning statuary. Or spend a long afternoon at the Strybing Arboretum and Botanical Gardens, where several botanical "zones" have been created, full of gorgeous flora and fauna, and conveniently peppered with benches along winding walkways where you can sit and read or share a picnic. One of the most beautiful buildings in the Park, The Conservatory of Flowers, has recently been renovated, and will re-open in the fall of 2003 for the first time in eight years. The building looks like a Victorian greenhouse, and is filled with exotic plants from all over the world. We can't wait!

There's so much to experience in Golden Gate Park –you'll just have to go and see for yourself!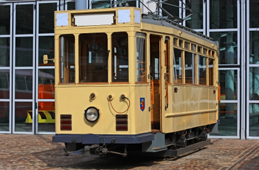 On a cable car
You're in San Francisco!
You simply must!
For a mere $3, you can jump on a one of those charming cable cars and take in the sights as it merrily clanks up and down the streets. Stop off at Union Square for a bit of shopping or a bite to eat; venture through Chinatown for dim sum and souvenirs. Hang off the side pole, wave at the passerby, or just enjoy the view.