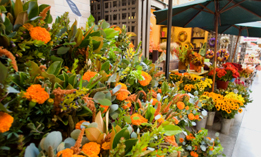 The Ferry Building Marketplace
What's so great about a farmer's market, you ask? Let's see: how about the outside stands with a view of the ocean, crowded with buckets of fresh flowers, and tables overflowing with five different kinds of basil and baskets stuffed with ripe peaches and plums? Or maybe it's the Primavera stand, where Karen Taylor and her crew serve up freshly made tamales stuffed with chicken and smoky tomato sauce.
Or inside the Ferry Building itself, where Cowgirl Creamery offers a wide selection of handmade cheeses; Acme Bread has stacks of fresh sourdoughready; Sharffen Berger chocolate has tender dried apricots dipped in bittersweet.
Honestly, there's so many reasons, we can't choose just one. Or five.
We will, however, offer a word of warning: make sure you've got plenty of cash on hand when you head over there.
If you're anything like us, you'll spend every dollar in your pocket and still find piles of things you'd like to walk home with.
This just might be our favorite way to spend a Saturday morning in San Francisco…
The Marin Headlands
There are so many variations on the breathtaking view of the Bay. One of our favorites is a vantage point from the other direction. It's easy: drive across the Golden Gate Bridge and take the Alexander Avenue exit. Take an immediate left off of the exit; thread beneath the tunnel and then turn right up the hill marked "Marin Headlands." The drive snakes up along the hills that hug the coastline. The view all the way up is remarkable, so drive slowly (but watch out for the bikers!). At the crest, pull into a parking space and get out for an amazing look at both bridges, the city and the wide, blue Bay. Then, walk up the gravel trail in back of the parking spaces and explore the trails – you don't need hiking boots, these are very friendly - and find your way to the other side of the crest, where an unobstructed view of the Pacific, sans city, stretches out for miles and miles… The angle of the hillside makes you feel like you've got a front-row seat on the edge of planet. Who needs IMAX? Truly phenomenal.
If you'd rather cook at home…
… then stop by Molinari in North Beach.
This tiny Italian market has a quaint, old-world feeling: sausages hang from strings over a tempting cheese display and the shelves are crammed with a delightful assortment of olive oils, boxed sweets and all kinds of hard-to-find items.
The boys behind the counter wear white aprons and chatter back and forth in Italian. They'll be more than happy to assist you in deciding what to take home.
There's even a wine bar on the miniature upstairs balcony, so you can pick out a bottle or two of vino.
SF Museum of Modern Art
If good art turns your head, get yourself to SFMOMA, where a blend of show-stopping modern art is displayed in an equally gorgeous building.
In between paint-splashed canvases and black and white prints, take a break at the cafe for a foamy latte, or head to the gift shop, where you can find everything from brilliant coffee table books to stunning, artisan-crafted jewelry.
Hot spot, indeed.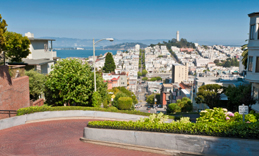 Nob Hill
Nob Hill is one of the most romantic neighborhoods in San Francisco. It perches high atop the city, with views in all directions. No matter what the weather – bright and sunny or draped in a misty fog – it exudes a special kind of magic.
Grace Cathedral sits on the crest of the hill, a breathtaking building with intricate spires that reach high into the sky.
Walk up the stairs and step inside for a moment to breathe in the reverent hush.
Back outside, you can go many different directions.
The Mark Hopkins Hotel has a wonderful restaurant on the very top where you can enjoy a cup of tea or a cocktail and take in a panoramic view of the city.
Or if you're in the mood for a cozy drink and a bite or two in front of a crackling fireplace, slip into one of the leather chairs at the Big Four for a sidecar and a plate of cheese.

After all of the doing and seeing, you're likely to need a break! You can't do better than the Nob Hill Spa, where you can lounge beside the pool or submit to a muscle-melting body treatment. For a truly decadent treat, try the Balinese massage, conducted in a flower-strewn, candle lit room, and accented with healing tropical essential oils. Verrrrrry nice.