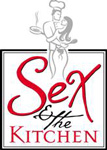 Sex and the Kitchen's Best Places in San Fransisco List
San Fransisco is one of the most romantic cities in the world. The Golden Gate bridge rises out of the water like a delicate crimson sculpture, set against the backdrop of dazzling blue ocean and triangular white sails. The City streets and steep and windy, dotted with leafy green trees and spilling over with flowers in shades of pink and periwinkle and amethyst.


This is a City for lovers: from intimate bistros to world-class shopping to breathtaking views, there is plenty to pine about long after you've gone.


Best Places to Kiss


The Palace of Fine Arts

This elegant dome-like structure sits on the edge of the Marina, close enough to the ocean that you can hear the mournful blare of the foghorns in the distance. The wide green lawn in front is the perfect place for a picnic on a warm autumn afternoon; from a shady spot beneath a tree, you can admire the groups of wedding parties that inevitably float by like colorful birds, photographers in tow. Or visit at night, when the pillars are lit from underneath, casting a seriously flattering glow on everyone around... You won't be able to escape without some serious smooching.

The Golden Gate Bridge

Predictable? Maybe. But we never get tired of this striking, soaring sculpture, rising above the water like a vision in red. The Golden Gate Bridge is the ultimate symbol of freedom and joy and the power of a dream...it's true. Just wait until you see it. Park down by Chrissy Field and hike up on to the bridge; brave the wind and walk across; peer over the edge. Take in the view: the windsurfers, the sailboats, the iconic downtown skyline. Breathtaking.

Golden Gate Park!

Golden Gate Park is so enormous – over 1,000 acres, with over a million trees and nine lakes – that you can't discover it all at once. You'll have to make several trips and leisurely enjoy each separate part of it. You might start with the Japanese Tea Gardens, where stunning architecture is accented with imported plants, bronzes, goldfish and stunning statuary. Or spend a long afternoon at the Strybing Arboretum and Botanical Gardens, where several botanical "zones" have been created, full of gorgeous flora and fauna, and conveniently peppered with benches along winding walkways where you can sit and read or share a picnic. One of the most beautiful buildings in the Park, The Conservatory of Flowers, has recently been renovated, and will re-open in the fall of 2003 for the first time in eight years. The building looks like a Victorian greenhouse, and is filled with exotic plants from all over the world. We can't wait! There's so much to experience in Golden Gate Park –you'll just have to go and see for yourself!

On a cable car

You're in San Francisco! You simply must! For a mere $3, you can jump on a one of those charming cable cars and take in the sights as it merrily clanks up and down the streets. Stop off at Union Square for a bit of shopping or a bite to eat; venture through Chinatown for dim sum and souvenirs. Hang off the side pole, wave at the passerby, or just enjoy the view.

Over an Irish Coffee at the Buena Vista…

At the far edge of Fisherman's Wharf, a bustling café sits along the cable car line and serves up a drink that has become a tradition for many San Franciscans… hot coffee with a generous splash Irish whisky, topped off with a layer of cream. The bartender lines up the glasses and pours a whole row of them at once. The café claims that they invented the drink, and introduced it to America; and why not? It's a perfect tonic for one of those days when the fog is pouring off the bay and the wind makes you pull your jacket tighter…

Best Place to Stay
Hotel Majestic

Located on the crest of hill between downtown and Pacific Heights, the Hotel Majestic is the Grand Dame of San Francisco hotels. The building is a delight to look at, an Edwardian masterpiece festooned with architectural bits and pieces and topped with flags that whip smartly in the wind. Inside, you'll find a lovely collection of French and English antiques, heavy draperies and old-world touches that speak volumes of grace and quiet glamour. Many of the rooms have canopy beds and wonderful views; all of them have turn-down service complete with cookies. This is a spot where you can feel like you're hidden away from the hustle and bustle, yet have access to a full suite of amenities and only moments from downtown. The neighborhood is delightful, full of beautiful homes and lush gardens; it's perfect for a casual afternoon stroll. Be sure to stop by the Avalon Bar for a peek at the stupendous butterfly collection, one of the largest in the world. Oh, and just a little word of advice as you're packing: grab those satin gloves and that fur-lined hat. This is just the sort of place where you'll feel like pulling them out.

The Clift Hotel

In a city so obsessed with brand-building that yuppie kindergartners have been overheard discussing "the brand called me," Ian Schrager of Studio 54 fame sashayed through with a brilliant object lesson. First, he purchased the historic Clift Hotel; next, he enlisted the help of uber-designer Phillipe Stark to re-invent it for the Prada-wearing jetsetter crowd, or anyone with aspirations thereof. The buzz was palpable in the weeks just before the opening; afterwards, there were lines around the block. It's easier to get in now, and while the crowd might not be as glamorous as you might hope, the place is still undeniably sexy. Once you get past the earpiece-wearing doormen, you'll encounter a feast for the senses; stark modern elements are brazenly paired with dark, polished woods and dim lighting for a feeling that is part hunting lodge, part swanky metropolitan chic. We love the lobby, with its funky assortment of chairs and enormous fireplace, though we'll warn you: there are so many posers here on Friday and Saturday nights that other nights of the week are generally more fun. In the hotel bar, called the Redwood Room, you'll pay more for a cocktail than anywhere else in town, but the scene is worth it; check out the photos on the walls and note how the eyes rove throughout the room… there's a whole story of the love triangle between the various photographic subjects, but we'll let you figure it out for yourself. Before or after drinks, have dinner at Asia De Cuba, where Chef Maria Manso combines Cuban flavors (think shellfish, dark vanilla and sticky tropical fruits) with high-glam presentation. Don't be surprised at the check, though, darling: those big brand names don't come cheap. Consider yourself inspired.

Hotel Palomar

The Hotel Palomar is a luxurious retreat smack in the middle of the city, perfectly situated just a few blocks from the Museum of Modern Art and the Yerba Buena Center for the Arts. With its gleaming mirrors, polished woods and plush carpets, it feels both sophisticated and subtle, the equivalent of a well-cut tuxedo. The rooms are furnished with Aveda products and delicious down comforters, and the luxury suites have deep spa tubs where you can soak away the stress for as long as you'd like. But the best part of all might be the Fifth Floor restaurant, where chef Laurent Gras has created an exquisite menu that is one of the most talked-about in town. Get ready for a fabulous experience: from the moment you walk in, you'll be treated (and fed!) like royalty. The pork belly is utterly amazing, paired with bits of black truffle for a symphony in your mouth. If you're feeling adventurous, try the Crepes Suzette, prepared tableside, for a special treat. Whatever you select, you're almost assured of giving one or two sighs of delight during dinner…

Most Romantic Restaurants


Boboquivari's

A red and black striped awning announces this brand new hot spot on Lombard Street. Inside the double doors, the walls are a deep shade of scarlet, and the tables sport black and white striped linens with gleaming black tops. The vibe is Cirque Du Soleil meets Napoli, with a smiling Boboquivari, the court jester, hanging above the entrance to the kitchen. We think it's one of the sexiest places in town – but of course! Andrea Froncillo is in the kitchen! He has created a small but decadent menu that emphasizes rich, concentrated flavors. For starters, try the ahi tuna carpaccio, drizzled in a soy ginger glaze and sprinkled with black sesame seeds; sample a giant salt-roasted prawn, dripping with garlic butter; or savor a couple of juicy scallops wrapped in thin strips of pancetta. The specialty of the house is steak – enormous, dry-aged steaks that are so juicy they nearly melt in your mouth. You won't find the tired creamed spinach that accompanies steak at most restaurants; here you'll have to choose between savory green beans that arrive in a pool of fragrant marinade studded with bits of chocolate, or the Brussels sprouts, made with capers and Parmigiano or one of the other house favorites. If you're still hungry after all of that, give in to the triple bypass – thick, creamy chocolate mousse.


Fleur de Lys

For an incredible culinary and ambient treat, we highly recommend it Fleur de Lys. The entire experience will sweep you off of your feet from the moment you step inside; the ceiling in the main dining room is covered in yards and yards of fabric, swooping down to make a tent of sorts. Mirrors line the walls, fresh flowers sprout from the countertops, and the china is tres chic, but the details are superfluous to the food. Superstar chef Hubert Keller has invented a menu to dazzle and delight, and each and every mouthful is a delight for the senses. From creamy-smooth soups served in tiny china cups to inventive treatments with foie gras, each and every plate is a feast for all five senses. Don't miss the cheese platter at the end of the meal; the French know their fromage, and a nutty wedge of aged Gouda with desert wine just might be the perfect way to begin the rest of your night.

The Brazen Head

When you'd rather see than be seen, scurry to the Brazen Head in Cow Hollow. There isn't a sign outside, but the dark wooden doors are flanked by a bower of glossy green ivy. Duck inside, and you'll feel like you stumbled into a warm European pub. The bartenders and wait staff are cheerful and fun, and they have an uncanny knack of remembering your favorite drink. There are no pretensions here; come in a suit or in sweats, and you'll be greeted with equal graciousness. Sit at the wide polished wood bar for a cocktail, or ask for one of the small tables tucked into the back of the room, where you can tuck into a pepper steak - or your date – in privacy.

Woodward's Garden

Perched on the corner of Market and Mission, this restaurant is all that remains of a magnificent garden that extended for several blocks, replete with exotic flowers and trees from all over the world and – the main draw – a vast collection of animals that included monkeys, deer, flamingos and camels. Today, the restaurant pays homage to those bygone days with a gentle atmosphere that radiates warmth and charm. In the kitchen, Dana and Margie (formerly at Greens and Postrio, respectively) consistently turn out food that is inventive and delicious with a touch of the fanciful. The menu constantly changes to reflect the local produce that the owners procure, so the selections are always fresh and surprising. The chandelier in the second room makes it our favorite spot for dining, but there aren't any "bad" seats.

Ana Mandara

A whiff of Oriental glamour wafts from Ana Mandara, the swanky Vietnamese restaurant located at the quiet end of Fisherman's Wharf. Strategically placed palm trees make the space feel intimate and grand at the same time, and the decadent artwork and silky textured fabrics are easy on the eye. Begin the evening with a lemongrass martini; later on, we recommend the sea bass, which is steamed to tender perfection in a glossy green banana leaf. Aren't the tropics a perfect place to while away a cool San Francisco evening?

Aziza

This dimly lit Moroccan restaurant has a warm, sexy vibe; plates are meant for sharing, and a parade of savory sauces and dips is sopped up with chewy hunks of warm bread. Chef Mourad Lahlou makes a traditional b'stilla that is not to be missed; ground chicken spiced with cinnamon and almonds is wrapped in flaky-tender phyllo dough to create a sweet and savory treat that will get your taste buds humming. Other favorites include the delectable tasting menu (items change frequently) and the chicken cooked in preserved lemons and green olives. Can't decide? Try the tasting menu…you'll get a sampling of all the best dishes. Several nights a week, a belly dancer glides through the restaurant, sashaying through the rooms with bells on her fingers while a sensuous beat drifts behind her. Remember Arabian Nights? If you want silverware, you'll have to ask for it, but please don't: eating with your fingers is so sexy!

Be Sure Not To Miss

The Ferry Building Marketplace

What's so great about a farmer's market, you ask? Let's see: how about the outside stands with a view of the ocean, crowded with buckets of fresh flowers, and tables overflowing with five different kinds of basil and baskets stuffed with ripe peaches and plums? Or maybe it's the Primavera stand, where Karen Taylor and her crew serve up freshly made tamales stuffed with chicken and smoky tomato sauce. Or inside the Ferry Building itself, where Cowgirl Creamery offers a wide selection of handmade cheeses; Acme Bread has stacks of fresh sourdoughready; Sharffen Berger chocolate has tender dried apricots dipped in bittersweet. Honestly, there's so many reasons, we can't choose just one. Or five. We will, however, offer a word of warning: make sure you've got plenty of cash on hand when you head over there. If you're anything like us, you'll spend every dollar in your pocket and still find piles of things you'd like to walk home with. This just might be our favorite way to spend a Saturday morning in San Francisco…

The Marin Headlands

There are so many variations on the breathtaking view of the Bay. One of our favorites is a vantage point from the other direction. It's easy: drive across the Golden Gate Bridge and take the Alexander Avenue exit. Take an immediate left off of the exit; thread beneath the tunnel and then turn right up the hill marked "Marin Headlands." The drive snakes up along the hills that hug the coastline. The view all the way up is remarkable, so drive slowly (but watch out for the bikers!). At the crest, pull into a parking space and get out for an amazing look at both bridges, the city and the wide, blue Bay. Then, walk up the gravel trail in back of the parking spaces and explore the trails – you don't need hiking boots, these are very friendly - and find your way to the other side of the crest, where an unobstructed view of the Pacific, sans city, stretches out for miles and miles… The angle of the hillside makes you feel like you've got a front-row seat on the edge of planet. Who needs IMAX? Truly phenomenal.

If you'd rather cook at home… … then stop by Molinari in North Beach.

This tiny Italian market has a quaint, old-world feeling: sausages hang from strings over a tempting cheese display and the shelves are crammed with a delightful assortment of olive oils, boxed sweets and all kinds of hard-to-find items. The boys behind the counter wear white aprons and chatter back and forth in Italian. They'll be more than happy to assist you in deciding what to take home. There's even a wine bar on the miniature upstairs balcony, so you can pick out a bottle or two of vino.
SF Museum of Modern Art

If good art turns your head, get yourself to SFMOMA, where a blend of show-stopping modern art is displayed in an equally gorgeous building. In between paint-splashed canvases and black and white prints, take a break at the cafe for a foamy latte, or head to the gift shop, where you can find everything from brilliant coffee table books to stunning, artisan-crafted jewelry. Hot spot, indeed.

Nob Hill

Nob Hill is one of the most romantic neighborhoods in San Francisco. It perches high atop the city, with views in all directions. No matter what the weather – bright and sunny or draped in a misty fog – it exudes a special kind of magic. Grace Cathedral sits on the crest of the hill, a breathtaking building with intricate spires that reach high into the sky. Walk up the stairs and step inside for a moment to breathe in the reverent hush. Back outside, you can go many different directions. The Mark Hopkins Hotel has a wonderful restaurant on the very top where you can enjoy a cup of tea or a cocktail and take in a panoramic view of the city. Or if you're in the mood for a cozy drink and a bite or two in front of a crackling fireplace, slip into one of the leather chairs at the Big Four for a sidecar and a plate of cheese. After all of the doing and seeing, you're likely to need a break! You can't do better than the Nob Hill Spa, where you can lounge beside the pool or submit to a muscle-melting body treatment. For a truly decadent treat, try the Balinese massage, conducted in a flower-strewn, candle lit room, and accented with healing tropical essential oils. Verrrrrry nice.


Up for a short drive?

Just 30 minutes outside of San Francisco, you'll find a small artisan chocolate maker whose products are making serious waves in the food industry. Lucky for you, they offer tours of their charming brick factory, complete with chocolate samples! So what are you waiting for? Make a date to go to the Scharffen Berger Chocolate Factory in Berkeley and get your hands around some of this stuff. They'll walk you through the whole process, from bean to bar, and leave you at the end in a very dangerous gift shop. You can even sign up for tours online. Some claim that good dark chocolate is an aphrodisiac, but we don't think you should take anyone's word for it. Go, and try it for yourself!


© 2002-2011, Sex and the Kitchen, Inc. All rights reserved. This Site and the contents of the Site are intended for your personal, noncommercial use.